At this week's Realtor Roundtable Meeting, we were joined by Andrew Nicholls, CEO of EyeSpy360, for a demo of his company's 3D virtual tour building platform.  We are very excited about this platform, as it offers some great add-ons to the standard Matterport 3D tours that we have grown accustomed to seeing with property marketing over the past few years.  Perhaps more importantly, it puts the power of creating these 3D tours in the hands of Realtors, instead of 3rd party vendors who rely on expensive equipment.
EyeSpy360 allows you to upload your own 360 degree photos directly to their platform, and within 24 hours they send you a 3d virtual tour, 3D model of the home and a floorplan.  Taking the photos requires a relatively inexpensive device which clips on to your phone's camera lens.  The device spins your phone around and takes several photos, which are then compiled to create the 360 degree view.  According to CEO, Nicholls, you only need 1 photo per room, and the process can take as little as 20 minutes.  This is vastly different from the Matterport 3D tours that real estate agents are used to, which require many different shots from each room and can take hours to complete.
If you don't have access to the 3D photo technology, EyeSpy360 has a network of 3d photographers they can refer you to.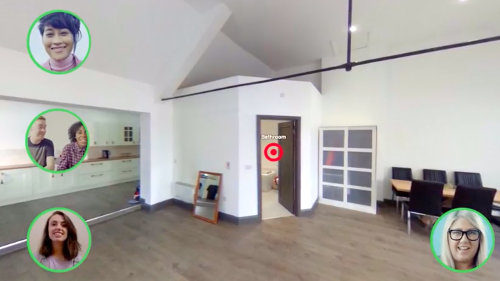 The platform also offers several add-ons to the 3D tour experience which allow for a more interactive 3D tour experience.  First, they offer a live chat function, so agents can remotely walk through the 3D tour with their client, while answering questions in real time and providing relevant information.  They also allow agents to record a narrated tour that buyers can watch as they tour the home.  Both of these features could prove to be incredibly useful in the age of social distancing.
Other add-ons to the tour experience include: virtual staging and labels you can place on objects to provide additional information. 
This is an exciting take on the 3D tour experience that we plan to test out on a listing very soon – stay tuned!
And of course, a big thank you to CEO, Andrew Nicholls, as well as Account Manager, Frederick Zennor, for taking the time to present to our group!  You can learn more about EyeSpy360 at www.EyeSpy360.com