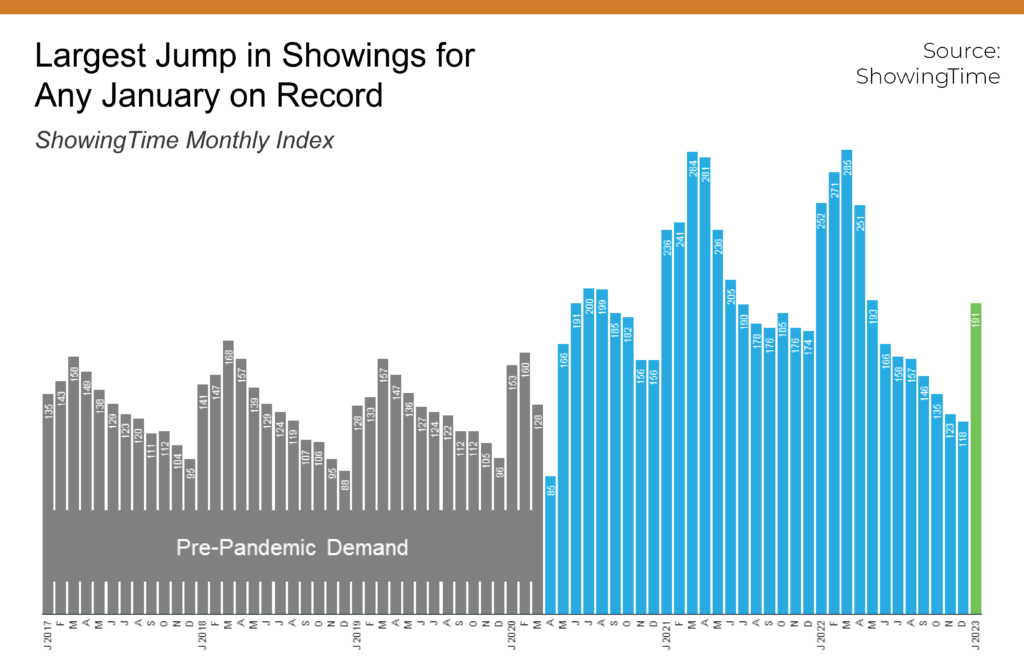 After a Q4 of anemic buyer activity at best, Q1 2023 proved to be a great bounce back season for Bay Area home buyers. Right out of the gates, we saw homes, which struggled to sell in Q4 2022, sell quickly upon being re-listed in January. Our open houses were busier and our phones were ringing more often.
–
National data seems to reflect a similar spike in buyer activity. The chart above shows the latest data from ShowingTime's Showing Index, a metric gauging average showings for active residential listings. The 62% jump in showings from December '22 to January '23 is one of the largest on record. There were also more showings in January than in any other month since last May. Michael Lane, VP of Sales and Industry at ShowingTime, explains:
"It's typical to see a seasonal increase in home showings in January as buyers get ready for the spring market, but a larger increase than any January before, [especially] after last year's rapid cooldown, is significant. Mortgage rate activity this spring will play a big role in sales activity, but January's home showings are a positive sign that buyers are getting back out there . . ."
It's important to note that mortgage rates did come down slightly in January, which likely played some role in the uptick in buyer activity. Since then, rates have again slightly increased. Still, Bay Area buyers have remained active so far, with average days on market sitting at just 10 days for homes that sold in March (San Mateo & Santa Clara counties). This is down about 50% from the end of last year.
–
Of course, there is still uncertainty around how the Fed's aggressive anti-inflationary policies will affect mortgage rates moving forward. But for now, we are heading into one of the busiest times of year for real estate with the tailwinds of an encouraging Q1 pushing us forward.