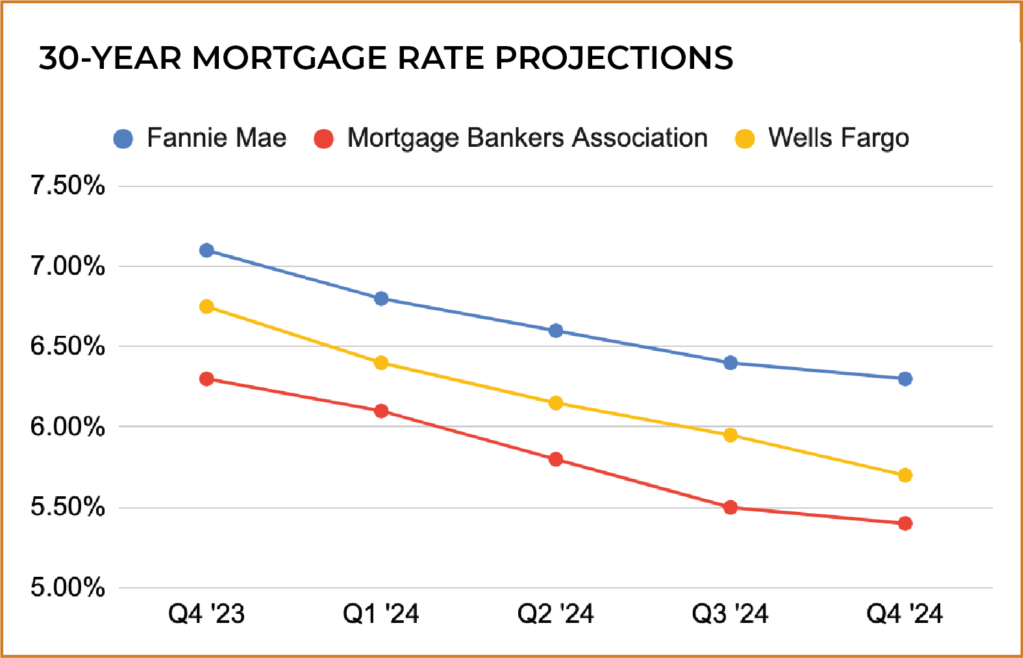 In August, mortgage rates hit 7.23% — the highest rate in over 20 years. The Federal Reserve has been hiking their rates to combat inflation, which has been dropping of late. Will mortgage rates drop, too? Most housing market watchers seem to expect mortgage rates to decline over the next year. (See chart for rate for forecasts)
.
We are optimistic, too. But it's the actual timing that is somewhat unknown. Our confidence in lower rates is stronger if we look at the next 12 months and beyond. But by December? Possibly not. The Fed has not ruled out another rate hike this year, which could push mortgage rates up again before they come down.
.
That brings us to suggest two opposing action plans.
.
1 – If you recently took out a mortgage at peak rates, keep your eye on the market! If said forecasts pan out, you may have an opportunity to refinance for a better rate within a year.
.
2 – If you're looking to buy a house, don't be afraid of a new mortgage. If you see a house you love and can swing the payments, you could be better off buying now. We've seen that rates are temporary, and we know that houses are permanent. You can always refinance at lower rates when they drop. And if rates continue to climb, then you're still ahead of the game because you got in early.
.
If you wait for lower mortgage rates to buy that house, it might not be available anymore. And remember that inflation that we talked about? As long as that's going on, guess where housing prices go: generally, up. While you wait for lower rates, your purchase price might rise and offset the lower rate.
.
So, if you find the house you love, don't feel you should wait. Get the house while you can afford it and monitor for an opportune time to refinance.
.
Looking to buy in the peninsula? Have questions about the market? Feel free to reach out to a RealSmart team member any time to start a conversation: 650-363-2808