From February to April of this year, the peninsula real estate market was on fire. Homes in San Mateo and Santa Clara counties were selling at an average of more than 15% above the asking price, with certain cities averaging more than 25% over. At a February open house in Belmont, we counted over 200 visitors in just 3 hours (more than a visitor a minute!). Prices hit record highs, with San Mateo County breaking the $2 million mark, then just a month later hitting $2.25 million. It was a sight to behold, but of course, highly unsustainable.

Now the market is nursing a bit of a hangover. Prices are slipping, the number of sales is decreasing, and inventory is rising. This is what happens on the tail end of a surge like the one we saw at the beginning of the year. If you look back at the past 5 years of median sales prices in San Mateo and Santa Clara Counties, you'll notice that wherever there is a sudden spike in prices, there is an immediate drop that follows. The market is constantly shifting and adjusting to changing levels of supply and demand, and occasionally it overcorrects.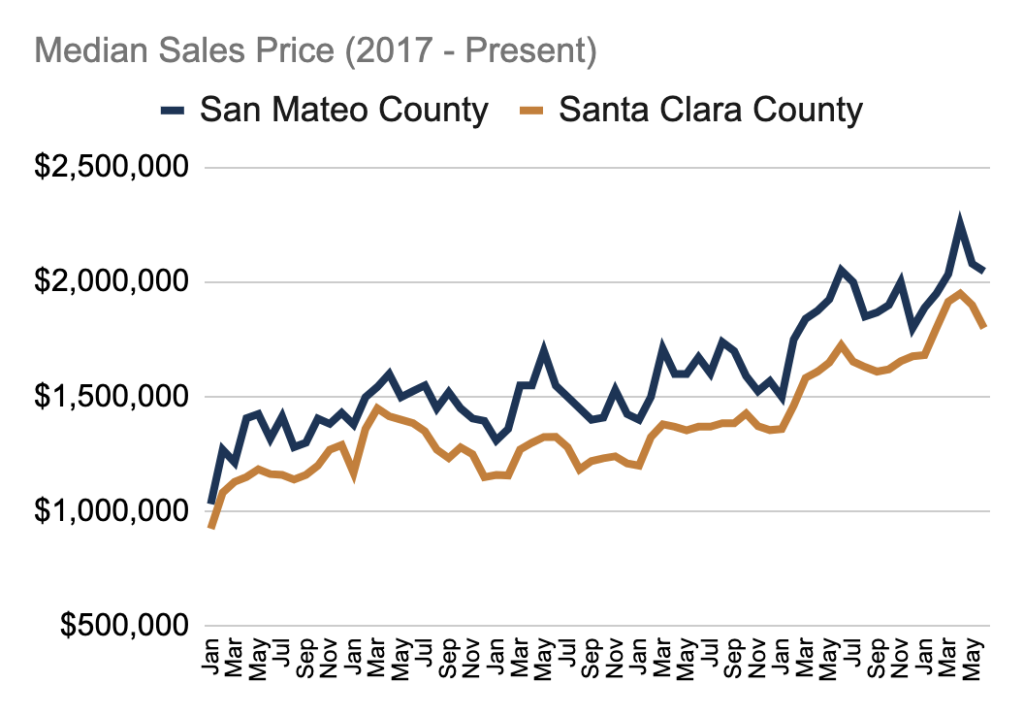 Rising interest rates and ongoing stock market woes have certainly played their part in this current slide, and there is some anxiety that economic conditions could hinder a resurgence in the real estate market moving forward. But despite all of this, other key indicators point to a relatively healthy market for now. Peninsula homes only spent an average of 9 days on the market in the month of June, and they sold at an average of about 7% over the asking price. The truth is, we are much closer to a normal healthy market now than we were during our late winter/early spring buying bonanza.

If you are considering buying or selling, but have reservations about the current market, give us a call. A RealSmart team member is always available to discuss your specific situation and offer advice.